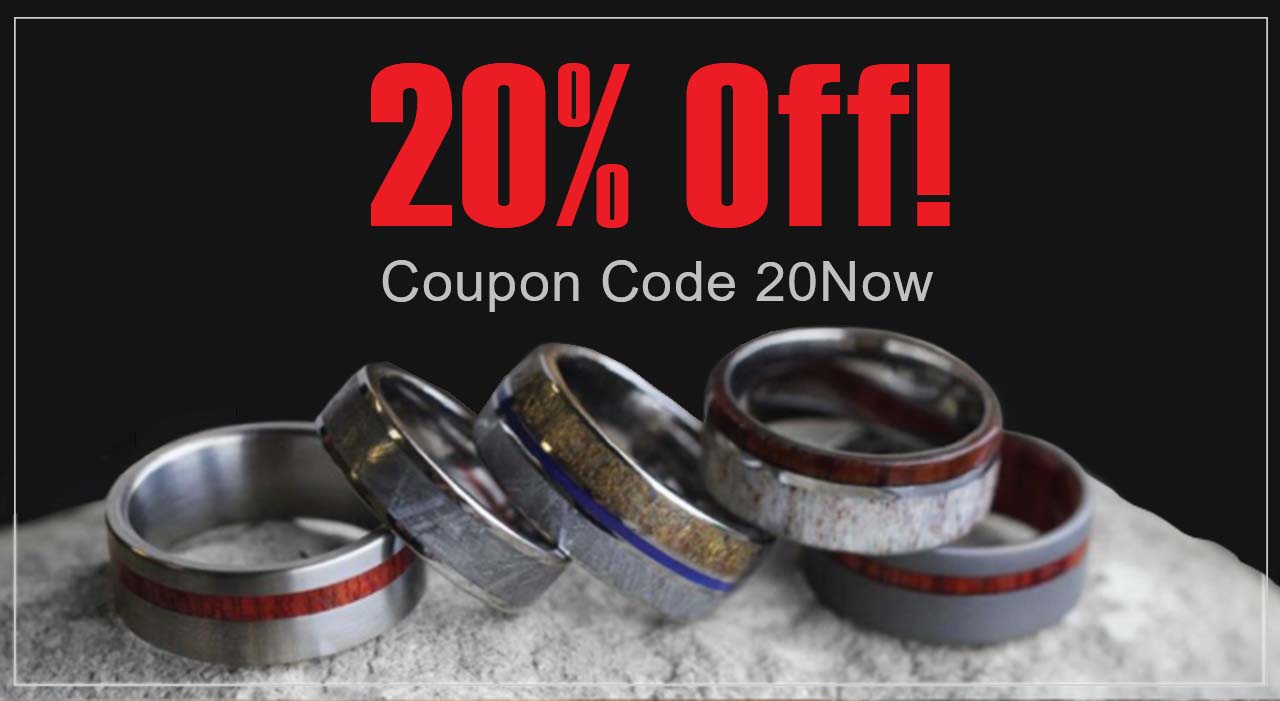 20% Off the Lowest Marked Price (Coupon 20Today)

Offering A Wide Variety of Stunning Wooden Wedding Rings
The Simply Wood Rings Philosophy. We love wood. Wood is warm, alive, beautiful, rich and purposeful. It symbolizes spiritual and physical nourishment. We offer one of the largest wooden ring collections on the internet and incorporate a variety of materials such as Oak (power & courage), Redwood (forever), KOA (integrity & strength), Ash (spiritual connectivity – past, present & future), Bamboo (prosperity), Bocote (exotic & aesthetic), Bubinga (positive energy), purpleheart (creative & knowledge), and hundreds more. Our artisans create handmade, custom masterpieces incorporating a variety of other materials such as dinosaur bone, meteorite, antler, precious metals and diamonds. Our Exotic Inlay Collection features wedding bands made with NO SEAMS anywhere in the final piece and protected with a patented Ring Armor thus protecting your one-of-a-kind masterpiece from the elements. Each Exotic Inlay Ring comes with a certificate of authenticity signed by the artisan. With decades of experience and utilizing skilled craftsmen throughout the world, Simply Wood Rings can customize the perfect ring for you and your loved one. We invite you to browse through our vast collection of rings featuring black ceramic, titanium, tungsten, palladium, platinum, white gold, yellow gold and rose gold. Should you find a special ring that catches your eye but you would like to substitute precious metal for one of our contemporary metals, please contact us. We love to delight our customers!
We have been seeking to delight our customers for over a decade. Men's and women's rings in a stunning variety of sizes, images, shapes, materials and designs. One of our specialties is working with our customers to fashion the ring they envision – one that you will wear for a lifetime. But it goes beyond the design and the material and the outward appearance – we seek to delight our customers in ways that go beyond the way we create our websites and the way we design each piece of jewelry … the lasting impression of how they you were treated and respected in your decision to trust us with your buying decision – that is ultimately the most important legacy we will leave behind. We take pride in the way we are rated by customers with the Better Business Bureau – we seek nothing less than an A+ rating with 5 Stars! 
To that end we encourage you to take a look, find the perfect ring that speaks to your tastes and style and let us see how we might please you with not just the final product but the way you feel treated as one of our valued customers. That is our ultimate goal – you be the judge. We ask that you tell us how we are doing, share your thoughts and feelings and help us improve. The owners want your feedback and honest input. We are here to listen and to learn from those who keep us in business – our valued customers.
The Johnson family understands, as owners, that we owe our success to you. That is why we seek to make sure you are delighted. We hope to hear from you along the way because we understand that you are purchasing more than a piece of jewelry – you are wearing a symbol of something that is precious and long-lasting – hopefully something for the rest of your life.