We have been helping customers receive the right size ring for over a decade & we can help you!
First, place your order. If you would like a sizing ring to be shipped to you before we ship the ring you have chosen – include a note in the "Order Notes" on the shipping page during checkout and/or send a note to sales@simplywoodrings.com. You are also welcome to call us at 312-473-7940.
Before we fulfill your order we will confirm via email what you have instructed us to do. For example, you might say "send sizing ring first". Or, you might say "send sizing rings in the following sizes: 7, 7.5, 8, 8.5." 
We will send you the S1000 gray tungsten sizing ring (pictured below), or if you prefer we will send you the same ring in black … the S1005. This service is free.
You will receive the sizing ring apx. 3 days from the date you place your order. Try it on and let us know if it fits. We will then ship the ring you have ordered.
All of our rings are "Comfort Fit", once you wear a comfort fit ring you will feel the difference! And after a decade of experience, we have found that ring sizing charts/cut-outs/graphs typically do not work as well as an actual sizing ring. Alternatively, you can have your ring finger sized at a jewelry store before you place your order.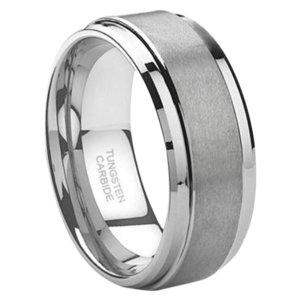 Pictured above is the S1000 sizing ring in gray tungsten.
For

International

sizing, please reference the chart below:
Inside Diameter

Inside Circumference

Sizes

MM
Inches
MM
Inches

British & Australian

US & Canada

French & Russian

German

Japanese

Swiss

9.91
0.390
31.13
1.22
-
0000
-
-
-
-
10.72
0.442
33.68
1.39
-
00
-
-
-
-
11.53
0.454
36.22
1.43
-
0
-
-
-
-
11.95
0.474
37.54
1.49
A
1/2
-
-
-
-
12.18
0.482
38.26
1.51
A 1/2
3/4
-
-
-
-
12.37
0.487
38.86
1.53
B
1
-
-
1
-
12.60
0.496
39.58
1.56
B 1/2
1 1/4
-
-
-
-
12.78
0.503
40.15
1.58
C
1 1/2
-
-
-
-
13.00
0.512
40.84
1.61
C 1/2
1 3/4
-
-
-
-
13.21
0.520
41.50
1.63
D
2
41 1/2
13 1/2
2
1 1/2
13.41
0.528
42.13
1.66
D 1/2
2 1/4
-
-
-
-
13.61
0.536
42.76
1.68
E
2 1/2
42 3/4
13 3/4
3
2 3/4
13.83
0.544
43.45
1.71
E 1/2
2 3/4
-
-
-
-
14.05
0.553
44.14
1.74
F
3
44
14
4
4
14.15
0.557
44.45
1.75
F 1/2
3 1/8
-
-
-
-
14.25
0.561
44.77
1.76
F 3/4
3 1/4
-
-
-
-
14.36
0.565
45.11
1.77
G
3 3/8
45 1/4
-
5
5 1/4
14.45
0.569
45.40
1.79
G 1/4
3 1/2
-
14 1/2
-
-
14.56
0.573
45.74
1.80
G 1/2
3 5/8
-
-
6
-
14.65
0.577
46.02
1.81
H
3 3/4
46 1/2
-
-
6 1/2
14.86
0.585
46.68
1.84
H 1/2
4
-
15
7
-
15.04
0.592
47.25
1.86
I
4 1/4
47 3/4
-
-
7 3/4
15.27
0.601
47.97
1.89
I 1/2
4 1/2
-
15 1/4
8
-
15.40
0.606
48.38
1.90
J
4 5/8
49
15 1/2
-
9
15.53
0.611
48.79
1.92
J 1/4
4 3/4
-
-
-
-
15.70
0.618
49.32
1.94
J 1/2
5
-
15 3/4
9
-
15.80
0.622
49.64
1.95
K
5 1/8
50
-
-
10
15.90
0.626
49.95
1.97
K 1/4
5 1/4
-
-
-
-
16.00
0.630
50.27
1.98
K 1/2
5 3/8
-
-
10
-
16.10
0.634
50.58
1.99
L
5 1/2
51 3/4
16
-
11 3/4
16.30
0.642
51.21
2.02
L 1/4
5 3/4
-
-
-
-
16.41
0.646
51.55
2.03
L 1/2
5 7/8
-
-
-
-
16.51
0.650
51.87
2.04
M
6
52 3/4
16 1/2
12
12 3/4
16.71
0.658
52.50
2.07
M 1/2
6 1/4
-
-
-
-
16.92
0.666
53.16
2.09
N
6 1/2
54
17
13
14
17.13
0.674
53.82
2.12
N 1/2
6 3/4
-
-
-
-
17.35
0.683
54.51
2.15
O
7
55 1/4
17 1/4
14
15 1/4
17.45
0.687
54.82
2.16
O 1/2
7 1/4
-
-
-
-
17.75
0.699
55.76
2.20
P
7 1/2
56 1/2
17 3/4
15
16 1/2
17.97
0.707
56.45
2.22
P 1/2
7 3/4
-
-
-
-
18.19
0.716
57.15
2.25
Q
8
57 3/4
18
16
17 3/4
18.35
0.722
57.65
2.27
Q 1/2
8 1/4
-
-
-
-
18.53
0.729
58.21
2.29
Q 3/4
8 1/2
-
18 1/2
17
-
18.61
0.733
58.47
2.30
R
8 5/8
59
-
-
19
18.69
0.736
58.72
2.31
R 1/4
8 3/4
-
-
-
-
18.80
0.740
59.06
2.32
R 1/2
8 7/8
-
-
-
-
18.89
0.748
59.34
2.35
R 3/4
9
-
19
18
-
19.10
0.752
60.00
2.36
S
9 1/8
60 1/4
-
-
20 1/4
19.22
0.757
60.38
2.38
S 1/4
9 1/4
-
-
-
-
19.31
0.760
60.66
2.39
S 1/2
9 3/8
-
-
-
-
19.41
0.764
60.98
2.40
S 3/4
9 1/2
-
19 1/2
19
-
19.51
0.768
61.29
2.41
T
9 5/8
61 1/2
-
-
21 1/2
19.62
0.772
61.64
2.43
T 1/4
9 3/4
-
-
-
-
19.84
0.781
62.33
2.45
T 1/2
10
-
20
20
-
20.02
0.788
62.89
2.48
U
10 1/4
62 3/4
-
21
22 3/4
20.20
0.797
63.46
2.50
U 1/2
10 1/2
-
20 1/4
22
-
20.32
0.800
63.84
2.51
V
10 5/8
63
-
-
23 3/4
20.44
0.805
64.21
2.53
V 1/4
10 3/4
-
-
-
-
20.68
0.814
64.97
2.56
V 1/2
11
-
20 3/4
23
-
20.76
0.817
65.22
2.57
W
11 1/8
65
-
-
25
20.85
0.821
65.50
2.58
W 1/4
11 1/4
-
-
-
-
20.94
0.824
65.78
2.59
W 1/2
11 3/8
-
-
-
-
21.08
0.830
66.22
2.61
W 3/4
11 1/2
-
21
24
-
21.18
0.834
66.54
2.62
X
11 5/8
66 1/4
-
-
26 1/4
21.24
0.836
66.73
2.63
X 1/4
11 3/4
-
-
-
-
21.30
0.839
66.92
2.64
X 1/2
11 7/8
-
-
-
-
21.49
0.846
67.51
2.66
Y
12
67 1/2
21 1/4
25
27 1/2
21.69
0.854
68.14
2.68
Y 1/2
12 1/4
-
-
-
-
21.89
0.862
68.77
2.71
Z
12 1/2
68 3/4
21 3/4
26
28 3/4
22.10
0.870
69.43
2.73
Z +1/2
12 3/4
-
-
-
-
22.33
0.879
70.15
2.76
Z+1
13
-
22
27
-
22.60
0.890
71.00
2.80
Z+1.5
13.5
-
-
-
-
22.69
0.893
71.28
2.81
Z+2
-
-
-
-
-
22.92
0.902
72.00
2.83
Z+2.5
-
-
-
-
-
23.06
0.908
72.45
2.85
Z+3
-
-
-
-
-
23.24
0.915
73.01
2.87
Z+3.5
-
-
-
-
-
23.47
0.924
73.73
2.90
Z+4
-
-
-
-
-
23.55
0.927
73.98
2.91
Z+4.5
-
-
-
-
-
23.87
0.940
74.99
2.95
Z+5
-
-
-
-
-
24.27
0.956
76.25
3.00
Z+6
-
-
-
-
-
Thank you,
Simply Wood Rings, Since 2004